HALO Homeless Shelter over capacity for eighth consecutive week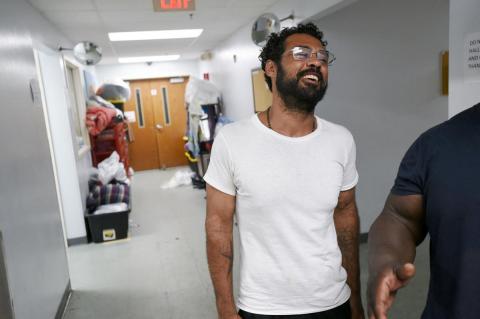 RACINE — For at least 60 nights in a row, Racine's primary homeless shelter has been over capacity. Staff and volunteers aren't sure what's causing the rush.
"We're all cramped in here," Dwayne Lindsey, 45, said before lying down on a sleeping mat on the cafeteria floor with another 20 men Wednesday night while dozens more slept in bunk beds. "You smelling each other's feet."
On Wednesday night, 86 men slept on the male side of HALO, the largest shelter in the county. Nearly as many people were on the family side, and at least half of them were children.
Typically, HALO has a maximum capacity of 120 people. But it has had at least 130 people there every night since the second week of May, according to Executive Director Gai Lorenzen. On the night of June 21, the population peaked with 167 men, women and children sleeping at the converted warehouse, 2000 DeKoven Ave.
On Tuesday, there were 158 people. "It's odd for us to have numbers this high at this point in summer," Lorenzen said. "It's perplexing." This time of year, there's usually only 50 or 60 people in the shelter, according to site Staff Supervisor Cris Colon. Winter is typically the busiest time for shelters because of the cold.
Between summer 2017 and April 2018, HALO was over capacity almost every night for nearly 10 consecutive months, but the population went back down last summer. HALO does not turn away anyone seeking shelter, provided they don't pose a threat, which is why it ends up taking in more people than its official "max capacity" of 120. The Racine Fire Department is informed nightly of the situation, due to the potential hazards caused by the crowding.
The people inside endure, dealing with cramped sleeping spaces, limited food and restrooms that could benefit from a deep cleaning. Despite the situation, Lindsey seems to do a good job of keeping positive. He speaks quietly but has a loud smile; the kind of guy who says "let me tell you something" before trying to share wisdom with the younger men.
Bageera Taylor (Pictured above), a 27-year-old Chicago native, has been in and out of the shelter since spring. He's recently divorced; he got kicked out of his stepfather's house in Kenosha after getting in a fight with his stepbrother that led to criminal charges in March. To Taylor, who already has a job in town and is applying for a second one, the shelter is a transitional safety net.
He denounces the guys who are complacent by staying in shelters for months and years at a time. Taylor wants to get out as soon as possible. "Is this place underfunded? Yes. Could it be cleaner? Yes," he said. "It's a shelter. Nobody wants to be here." But getting into a better situation takes time and resources.
Taylor's most recent paycheck was exhausted after buying a backpack, phone, one pair of pants and a single pack of cigarettes — which he admits was a luxury and maybe not the wisest purchase: "And now I have not a penny to my name." He obtained an apartment earlier this year but quickly realized that it wasn't a safe place, and that one slipup or unexpected expense could lead to an eviction. HALO welcomed him back. "When you get out of here, you still need some support," Lindsey pointed out. "You need job security."
Lindsey hasn't lived at HALO long either, only a few months. After his mom died last year, Lindsey fell into a depression and lost his job. After a falling out with the mother of his son, Lindsey didn't have any money or places to go. "Before I got here, I looked down on homeless people. Now I'm learning a lot from them," he said. "Some people don't mess up and still end up here (in a shelter)."
"Even if they find a place to live, there's no guarantee it could be stable or permanent. There's this feeling of "How am I going to keep this up and not fall back?" Lindsey said, comparable to Taylor's experience earlier this year.
At the top of advocates' wish lists is more funding to help people and families pay for housing once they're out of shelter, including a safety fund that can be used in emergency situations when someone is at risk of losing their home. But the cash to fuel that kind of program hasn't materialized. And the longer people stay in shelters, the less money there is to help the people who are moving out, Taylor noted.
A number of factors are likely contributing to the summer spike. Ron Thomas, the president of the Homelessness and Housing Alliance of Racine County, says that summer surges like this aren't unheard of: "It's becoming a pattern, but it's not unique to Racine. It's a nationwide phenomenon."
Thomas thinks some of it results from families whose kids were getting free or reduced-price meals at school. When summer vacation begins, those meals aren't available anymore, so low-income families are forced to find other ways to feed their kids — like checking into HALO. "I'll give you an example," Thomas said. "Eighty-four percentof students at Knapp Elementary qualify for free or reduced lunch, which means poverty."
The Hospitality Center, 614 Main St., which offers free meals four days a week, has been feeding more families than normal, too, said Pastor Seth Raymond, executive director of the center.
Lorenzen said another 5 to 10 people new to HALO this summer had been living at Riverside Inn, the low-cost hotel at 3700 Northwestern Ave. that was forced to evict the remainder of its residents in June after it came under new ownership.
When newcomers are taken in at HALO, a staff member records where they last lived. That information can be useful for identifying wider-reaching or growing problems. But it's still too early to identify a pattern that could be causing the current escalation, if there even is a pattern.
The overall cause of situations such as this is likely the same problem constantly faced by Racine's poor, according to Lorenzen and Thomas: Too many people are impoverished and can't afford, find or maintain stable housing.
- Written by Adam Rogan (Reporter)
For full article, please click HERE
---