Donate
Thank you for making a donation in support of our mission.
HALO, Inc. is a 501(c)(3) qualified nonprofit organization. HALO will not share or sell a donor's personal information with anyone else, nor send donor mailings on behalf of other organizations.
It's easy and secure, just use your credit card or PayPal account by clicking the donate button below.
Mail a Check
Make it payable to HALO, Inc. and send it to 2000 DeKoven Ave, Unit 1, Racine, WI 53403
Leave a Legacy
Talk to your financial planner about bestowing a gift to HALO through a will, trust, or beneficiary naming. Or, donate some of your IRA's required annual withdrawal in a charitable transfer. Please contact Nina Thillemann, if you've made a decision to support HALO in this manner.
Why isn't HALO accepting all in kind donations at this time?
HALO has been overrun with the generosity of the community. We work hard to make sure that each individual and family in our program has what they need to succeed - clothing, personal care items, school supplies, or items for their new homes when they leave shelter. We do accept some of these donations on a regular basis, but please see the list below. 
Space at HALO is limited. As many as eight individuals may occupy a room. Unfortunately, this limits the amount of personal items each person can keep in their room to 10 outfits per person, or 15 for a person who is working. Additionally, space is limited in our donation room. When we receive an influx of donations, we are forced to limit donations to only a few essential items that we use on a regular basis. There are some items we cannot take at all for various reasons. 
Are there any items that HALO can use right now?
There are always items that we need. Needed items vary based on the individuals in our program, the season, and what has been donated recently. Please call before donating so we can let you know if we have any immediate needs in addition to these on-going needs:
Bedding:  twin sheets, pillowcases, blankets (can be gently used)
Pillows (new)
Bath towels and wash cloths (can be gently used)
Foot powder
Razors & shaving cream
Deodorant
Diapers, especially sizes 4-6
Baby wipes
Ziploc bags - particularly sandwich size, 1 gallon, 2 gallon
Paper napkins, paper towels, brown lunch bags
Milk, fresh fruit and vegetables
Underwear - children and adults - all sizes, but particularly XL & larger
XL & larger men's & women's pants, shirts, sweatshirts
How else can I help HALO and the individuals in your program?
Here are a few ways you can help HALO.
Volunteer -  We need volunteers for preparing meals, serving meals, tutoring students, serving on our board or committees, clerical assistance, or even sorting the donations from other individuals. Visit our Volunteer page to learn more or contact Meagan Sus at (262) 633-3235 extension 103.
Help furnish an apartment - We support the efforts of Feather a Nest - a local nonprofit - to furnish the apartments of some of the men and women moving out of our shelter. Please consider donating household furnishings to this organization as a way to benefit our clients. Learn more here.
Financially - One of the most important ways we can help individuals is by providing shelter, food, hygiene items and case management. Your financial gifts enable us to continue to assist the individuals at HALO. 
---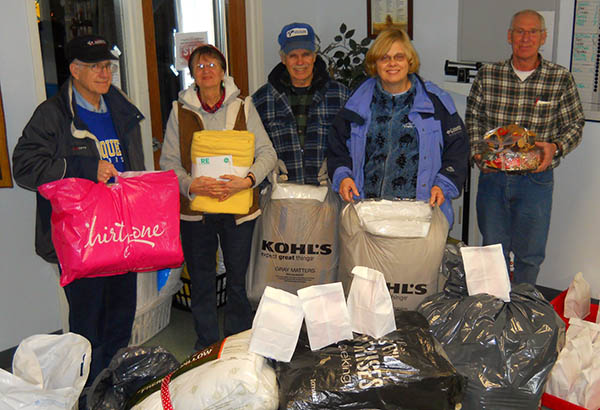 Donating Items In Kind
Serving over 120 men, women and children each night, our greatest needs are for items that will be used by our clients. HALO is open 365/24/7. Although you can bring your donation anytime, we ask that you avoid our busiest times which are 6 - 9 am, 4 - 6 pm, and 9 - 11 pm.  
HOST A DONATION DRIVE
You, your family, your co-workers, your church... any individual or group can organize and host a Donation Drive for new and unused personal care items that are needed daily at the shelter.
Instead of birthday gifts suggest needed items be given to HALO.
Use Facebook and other social media to help spread the word. Please notify HALO if you are planning an event in support of our mission so that we can help promote it.
Successful donation drives have included Diapers & Wipes, Deodorant Sticks, Feminine Products, New Towels, Linens, Pillows & Blankets, New Socks & Undergarments, Non-Perishable Food Items and more. 
HALO Cannot Accept Some Items
HALO is not able to accept the following items:
Used electronics of any kind
Used toys, including stuffed toys and dolls
Children's clothing with strings
Child car seats, furniture, or bouncers with a stamped date of more than 3 years
Clothing and shoes (unless specifically listed - call first)
VHS tapes
Cigarettes
Children's books
Leftovers from a Rummage Sale unless they are included in the needed list above
Holiday decorations
Miscellaneous household items