The Great HALO Cake Off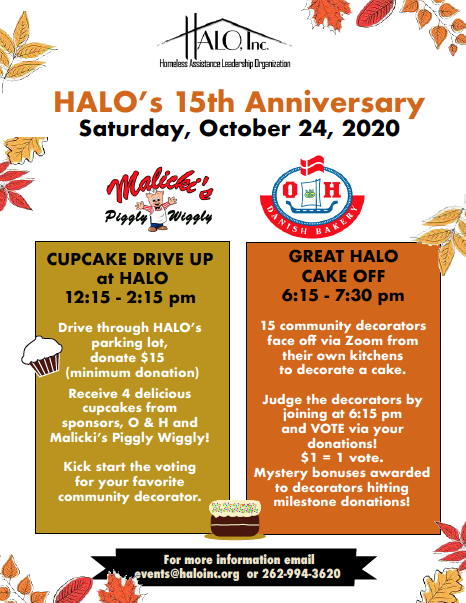 Welcome to the Great HALO Cake Off! 15 local Racine community members (known as our 'Cake Masters') have been chosen to participate in their own kitchens to create a cake masterpiece – and YOU can be their sidekick! How? Each dollar towards your favorite Cake Master equals a vote, and votes mean goodies for their cake! From sprinkles to candles to tasty additions, you can help your cake master win the coveted 'Great HALO Cake Off Champion' of 2020! Now what are you waiting for? Let's bake for HALO to provide emergency food, clothing, shelter, and permanent housing for those experiencing homelessness in Racine County!
Join the Zoom experience on October 24th from 6:15-7:30PM! Zoom link: https://us02web.zoom.us/j/87959848722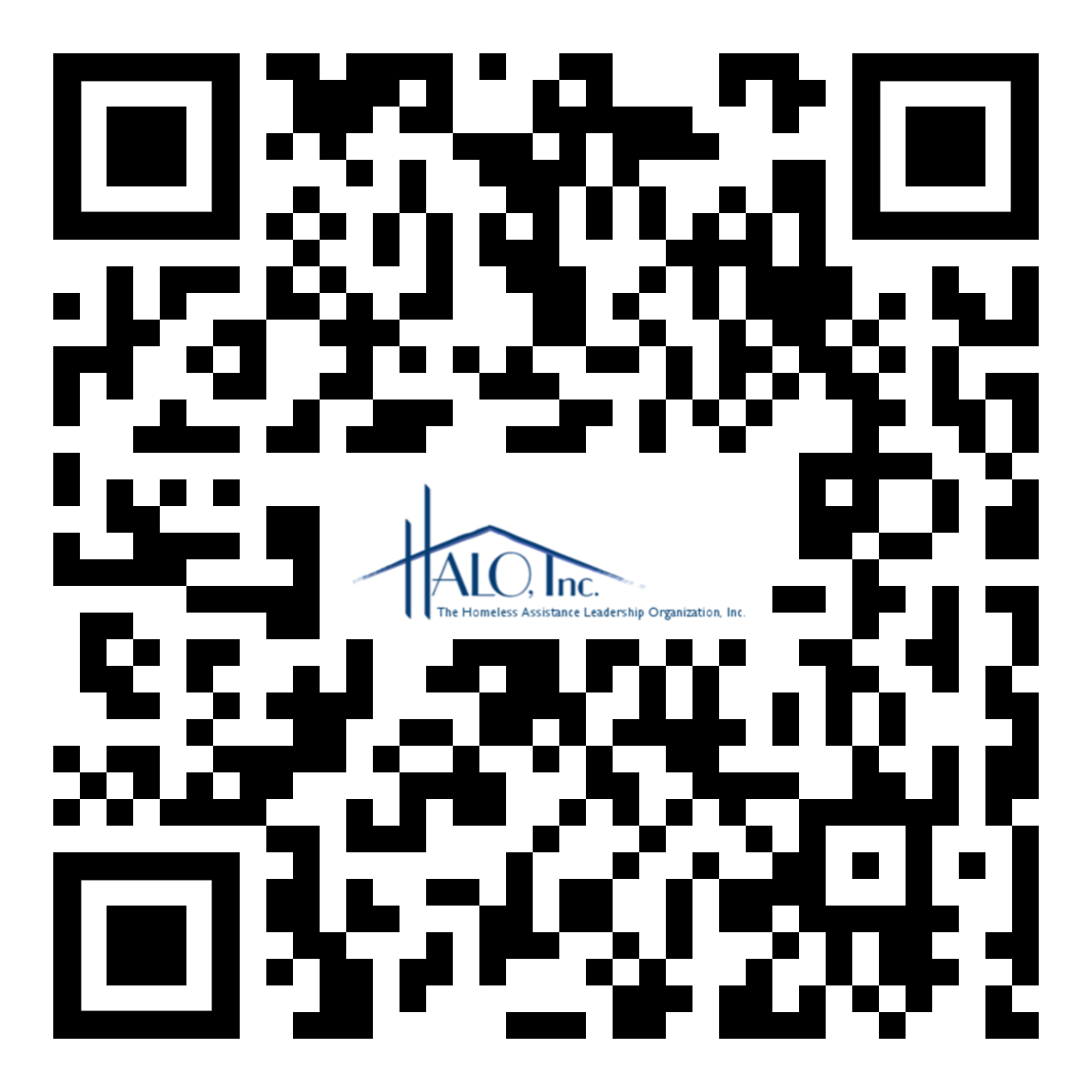 Vote Now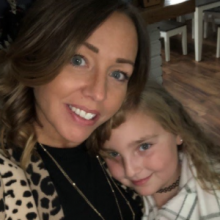 Alexa started with United Way of Racine County in 2011, recently becoming the first female President and CEO in the organization's 100 year history. Alexa loves the Racine community and is committed to continuing to make Racine a vibrant and healthy place to live and work!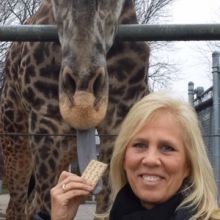 is Executive Director of the Racine Zoo and an active member of the community! Beth has served zoos all over the country, from Minnesota to California to Florida, and we are grateful to have her in Racine!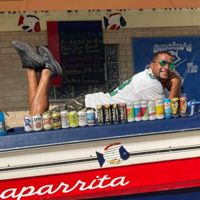 is the Owner of Smok'd on the Water in downtown Racine.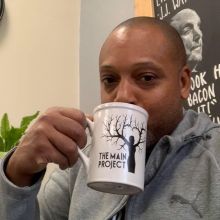 is the founder and director of Project Restoration and The Main Project, programs dedicated to helping at-risk youth in the Racine Community find their focus, get their education, and achieve their goals and dreams.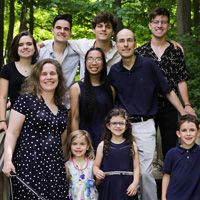 is an Internal Medicine physician at Ascension All Saints for the past 22 years. He is married to Jennifer, and they have 8 children. He loves serving at HALO and ministering to the people there.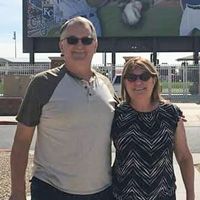 is HALO's soon to be retired Executive Director. She is married to Bruce, who retired from CNH this year; and is the REAL cake decorator in the family.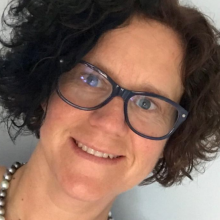 is the Director of Girls Inc. of SE Wisconsin with almost 20 years in news and marketing, most of those years spent in and around Racine. Heather works closely with board members, the RUSD, and KUSD to expand programming into Kenosha as well and, potentially, into additional communities.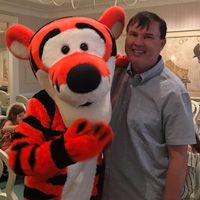 actively helps the non-profit community currently serving on the HALO and Racine Opportunity Center board and was a past board member of Health Care Network. Jim is the Chief Administration Officer at Educators Credit Union and is married to Lori, a Nurse Practitioner in Racine.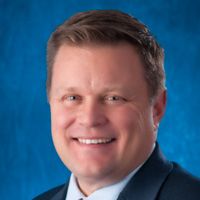 was elected Racine County Executive in 2015. As County Executive, his priorities are economic development, attracting business and developing our workforce, and expanding mental health services. Jonathan lives in Racine with his wife, Katie, and their three children.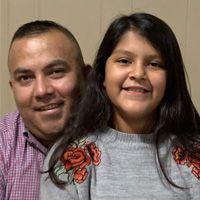 is the Congregation Coordinator for Iglesia Bautista Renacer and Treasurer for the American Baptist Churches of WI. His daighter, Julieta, is a Gifford Elementary School student with a passion for serving her community.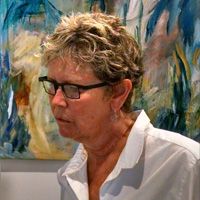 is the Executive Director of the Racine Arts Council. She is excited to be leading this organization, bringing new ideas and enthusiasm to the position. Kathi's passion is bringing people together and helping build community, one collaboration at a time.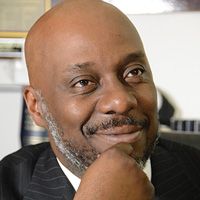 is a native of Racine, a 19+ year veteran of the US Army/Army Reserve, Founder and Senior Pastor of Zoe Outreach Ministries, manages Uplift 900 for Racine County, and an advocate for Racine.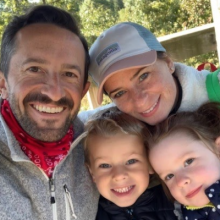 along with children Neil, Ashley, Calvin & Lena, are excited to put their heads and hands together to bake a creative masterpiece! Neil is a Business Development Officer at Educator's Credit Union, Ashley is the Program Director at the Johnson Foundation at Wingspread, Calvin started Kindergarten and Lena started 3 year old preschool this year!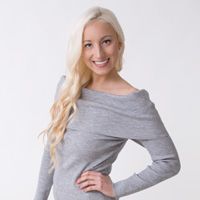 was born and raised in Racine, co-owns Image Management, founded Milk & Honey Magazine, wrote Grow Up: Growing Your Business & Yourself, has a passion for Jesus, speaks to many local schools and colleges, serves on various boards and advisory committees, and competes in triathlons! She can't wait to decorate (& eat!) her cake!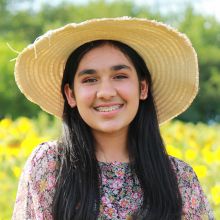 is a freshman and a Hilpert Scholar at The Prairie School. She is the founder of SHOW, a nonprofit organization focused on providing clean water.